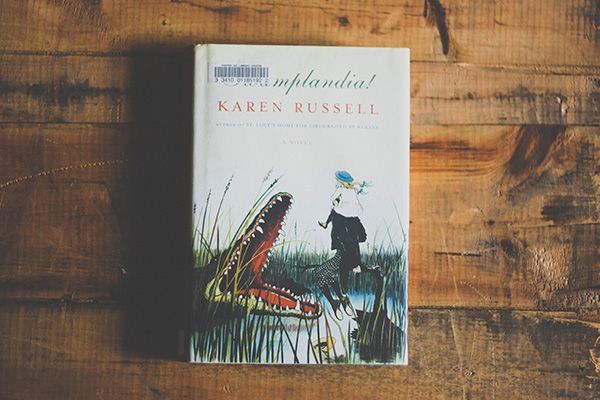 The Mysterious Benedict Society by Trenton Lee Stewart - I loved this book! When I found out that Carson Ellis (from the Wildwood series) illustrated this book, I knew I had to check it out. And I am so glad I did! It's a fun, charming little story about four young children who have to save humanity. They become spies in a school for gifted children and must stop a madman before its too late! It's a children's book, so the "mysteries" are quite obvious and easy to figure out, but the story is enough to draw you in. You should definitely read this fun, short, charming book! I'm currently reading the sequel.
Swamplandia! by Karen Russell - Ok. I know I said I wasn't too critical on books....but I really did not enjoy this book. And I don't even know if I should be putting it up for a "review" because I didn't even finish it. I got about 150 pages in before I looked up reviews on Amazon. Everyone said the first 100 pages were good, then it goes downhill. I decided not to finish it since I wasn't even enjoying the first 100 pages. The story was kind of all over the place. Maybe I didn't give it a fair enough chance. Or maybe I was just too impatient with letting the story build up. Either way, I didn't have the desire to finish this one. It's unfortunate because I was really excited to read this novel, but it left me very disappointed. Have any of you read this? Should I go back and give it another chance?
Pink Smog: Becoming Weetzie Bat by Francesca Lia Block - I will never stop loving Francesca Lia Block. Her books have a way of taking me back to my 16-year-old self. That blissfully naive version of myself that saw everything around me as magical and beautiful. Reading one of her books again was so good for me. I haven't read a new book by her in years. I really loved this story. It's a really easy read (I read it in an afternoon!). It follows 13-year-old Weetzie through a difficult time when her father leaves and her mother insists on watching TV and drinking all day. She meets some interesting characters (like every FLB book is known for!) and finds herself along the way. I highly recommend this for a quick summer read.

Give me some of your favorite book suggestions!